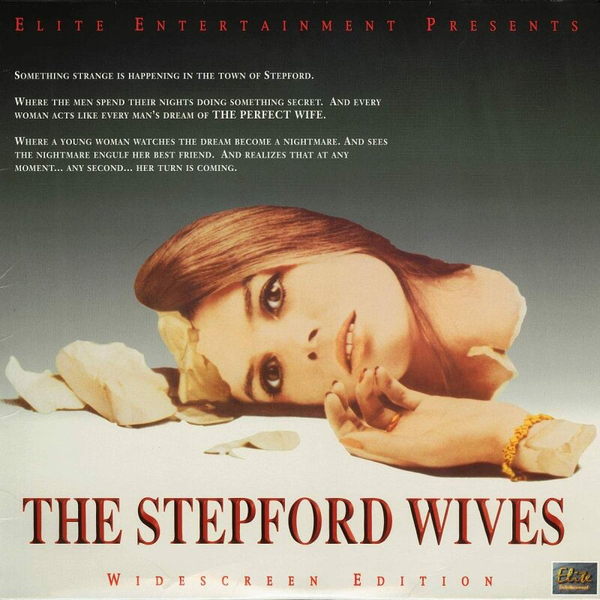 Stepford Wives (1975) WS ELITE [EE9433]
---
---
---
Cover: VG+
Cover has a small bend line in the top right corner and a small bend line in the bottom right corner. Both are mainly noticeable under bright light when you're really looking for them- not distracting. 
*Stock photo used to denote version*
Disc(s): VG++

Features:
WS CLV 1997 pressing of the 1975 film

The Digital transfer was created from a 35mm CRI and magnetic mono audio tracks.
Other condition notes:
Copy from a California, smoke free, super collector's home. Discs always stored inside a temperature controlled home inside a plastic sleeve. Sleeve removed to take photographs. 


RETURN AND REFUND POLICY
Due to the large volume of inventory I have, I am not able to test every disc. All items are untested unless stated otherwise. Because all items are vintage new old stock or used/secondhand, there are no returns. However if the disc has laser rot or your order arrived damaged, please contact me for store credit. If you are unhappy with your order for any other reason, please send me an email describing the issue and we can work something out!
DISCLAIMER
Please note that disc photos are my stock photos, unless stated as otherwise, and actual item condition may vary from these photos
All discs/covers are graded along the same lines as the Goldmine Record Grading Scale
Tested discs with any signs of laser rot will be graded along the LDDB laser rot scale:
1/5 - Light rot: a few speckles, hard to notice, might be a scratched master
2/5 - Medium rot: still can be watched but speckles are becoming distracting
3/5 - Heavy rot: multicolored snow all over the screen
4/5 - Critical rot: analog sound is distorted, digital sound clicks and pops
5/5 - Death: disc cannot be played anymore
If you have specific questions about discs and condition, I'm always happy to answer questions and provide photos! Feel free to email me!
---
Share this Product
---
---
---